Of all the words in the English language, none get marketers more excited than this four letter combination: L-E-A-D.
Collecting and qualifying leads is every marketer's prime responsibility. It doesn't matter whether you focus on local, social, or organic channels, the number of leads you capture each month (and their quality) will be among your top KPIs.
One way to capture and qualify leads is through an email marketing funnel. A well-formed email funnel can bring in a steady supply of leads to your sales team on autopilot.
How exactly do you go about setting up an email marketing funnel? What steps can you take to maximize this funnel's impact? which email marketing tool will you need? I'll share some answers in this detailed guide.
The Email Marketing Funnel Explained
An email marketing funnel can be broadly divided into three distinct stages:
Attracting visitors to a page (such as a landing page or blog post with an opt-in form)
Engaging visitors with relevant content and capturing their emails with targeted offers
Nurturing captured leads and turning them into sales-ready buyers
Graphically, you can represent this as follows: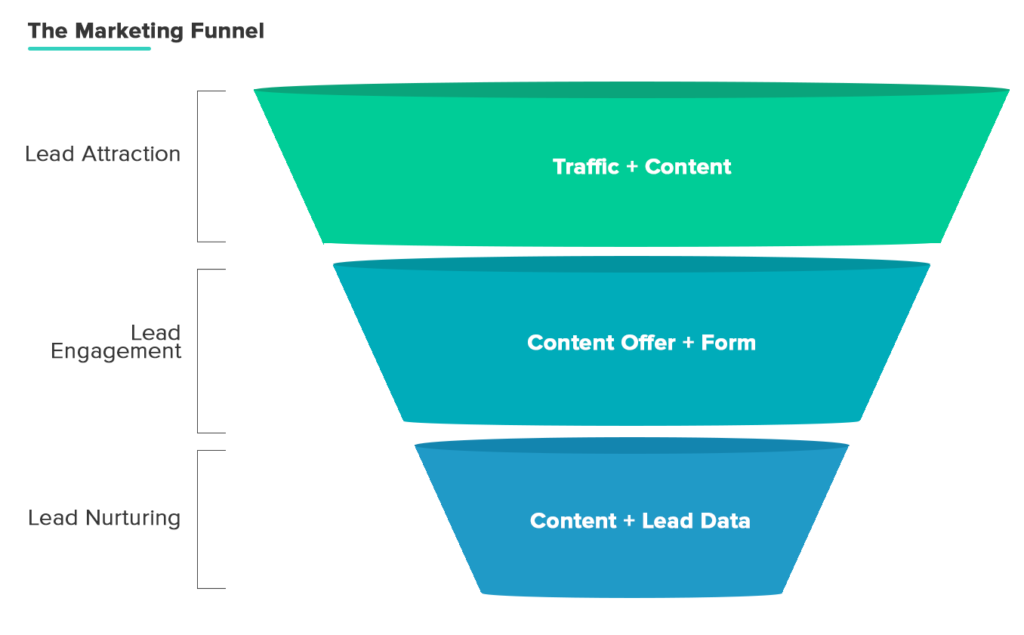 At the start of the funnel, you have just raw traffic. As the traffic moves through the funnel, it turns into a lead and eventually, into a marketing qualified lead (MQL).
I'll share an example to help you understand this funnel better.
Reference this page on growth hacking tactics for an example of a project. Since it ranks on the first spot for its primary keyword ("growth hacking traffic"), it attracts a number of targeted visitors.
This is the first stage in the email marketing funnel—Attraction.
The next step is to turn this raw traffic into leads. To do this,  an opt-in form with a highly targeted offer - a printable checklist of the page's content.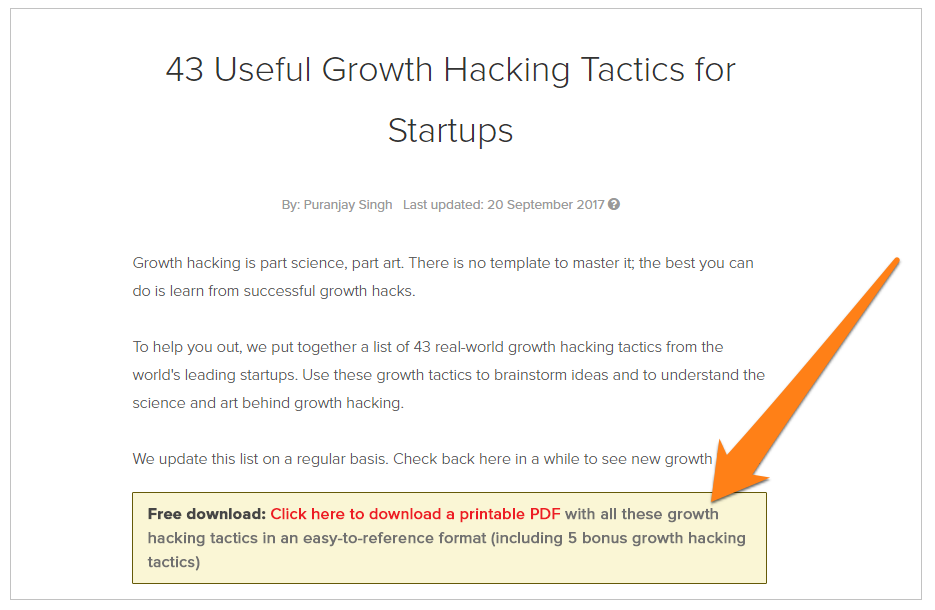 Since the offer matches the visitors' requirements, we get a strong conversion rate for the opt-in. This is the second stage: Engagement.
Once we've captured an email address, we plug it into a marketing automation funnel. This funnel sends the lead a series of emails based on their actions. This is the third stage—Nurture.
The purpose of this funnel is to educate the reader about "growth hacking" with a subtle plug for our services. By the end of the email series, the lead is "qualified" for a sales call.
This is just one example of an email marketing funnel. Large agencies might have multiple offers and complex automation rules. If you're starting out, however, this simple three-step funnel is a good place to start.
The Key Ingredients of a Successful Email Marketing Funnel
Every successful email marketing funnel requires a few key ingredients:
Traffic: A successful funnel requires a consistent stream of quality, targeted traffic. The traffic must show some intent to learn more about a topic. Organic or paid traffic through long-tail keywords works particularly well.
Content offer: Any targeted visitor landing on your site must have a reason to give away his email address. Your goal should be to demonstrate value, either through content (such as a blog post), or through other trust signals (such as testimonials, content previews) on a landing page.
Tools: You'll need a way to capture emails through opt-in forms and landing pages. You'll also need a marketing automation tool for the nurture stage of the email marketing funnel.
This covers the basics of any competent email marketing funnel. You can go further with A/B testing to improve conversion rates, though I recommend reserving that for later.
In the next section, I'll show you how to create your own funnel using these key ingredients.
Phase 1: Attracting Traffic with Content
As they say in marketing: it all starts with traffic.
To build a successful email marketing funnel, you need to supply it with a steady stream of targeted traffic. The more consistent and scalable the traffic supply, the more predictable your results and revenue.
To attract this traffic, you'll need to create quality content. Even if you're using paid channels, you'll need to create a compelling content offer to reel in visitors.
How to Create Compelling Content
When it comes to capturing emails, there are broadly two models you can adopt:
Place high-value content (such as an eBook) behind a download form. Drive traffic to a landing page that promotes this content.
Offer content upfront (such as a blog post) and place additional high-value content behind an opt-in form.
You can illustrate these two models as follows: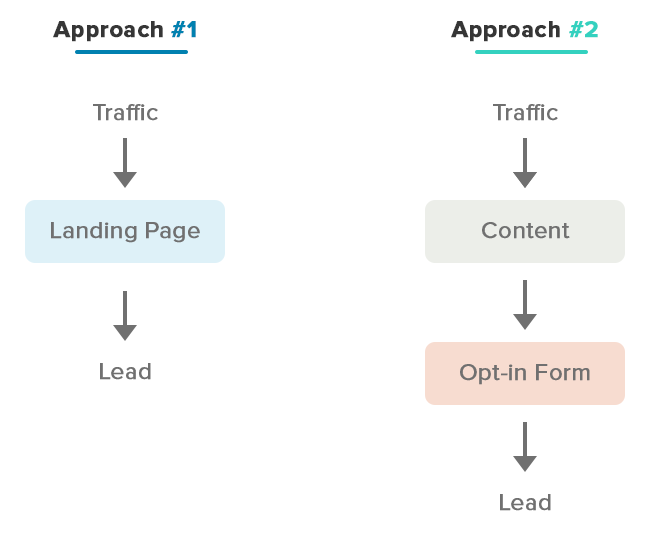 The first model is effective but depends mostly on paid traffic. A landing page isn't going to attract much organic traffic by itself.
I prefer the second model for two reasons:
You can attract traffic through search and social media referrals
You can give visitors a "preview" of your content and highlight its value
The second model is also much more in line with the inbound marketing philosophy of giving value for free and letting visitors opt into receiving additional information.
When you're creating this content, there are a few things you need to keep in mind:
1. Pick relevant topics
When picking topics for your content, always keep your final goal in mind - to capture emails.
This means that the topic should be:
Expansive enough to support a high-value content piece
Narrow enough to interest your targeted demographic
Focused on a relevant keyword(s) with substantial search volume
Related to the high-value content you're going to offer to capture emails
For example, if you're targeting small businesses that want to get local customers through search, pick a topic like "Local SEO checklist" instead of just SEO checklist. The former is more relevant to your target audience's interests.
It's always a good idea to pick a topic that can be turned into a listicle. This way, you can expand the content when necessary by adding more items to the list.
Another good practice is to take stock of your existing eBooks, whitepapers, and other content offers. Try to align your topic with this existing content library. This allows you to plug in your existing content to capture emails.
2. See what your target clients are sharing
One of my favorite ways to pick a content topic is to see what my target clients are publicly sharing. This gives me great insight into the client's biggest concerns and content consumption habits.
Here's how you can use this tactic:
Create an ideal buyer persona: If you don't already have one, create your ideal buyer persona. Describe this customer's demographics, role/position in the company, and interests. Read Zachary's guide to learn more about it.
Find 10 people who fit your target persona: Make a list of at least 10 prospects who a) fit your target persona, and b) are active on social media.
Make a list of their shared content: For each prospect, find out what content they're sharing on Twitter and LinkedIn.
Analyze shared content: Note the topic, content complexity, content type (how-to, thought piece, guide, etc.), and length for each piece of shared content.
Here's what your sample spreadsheet might look like:

Your goal is to figure out what kind of content your target customers like to consume. This will help you create content that appeals to their interests.
3. Align content with traffic acquisition strategy
What kind of content you create will depend a lot on how you plan to attract traffic to it.
If your plan is to get traffic through Pinterest, you'll want to create highly visual content.
Likewise, if you plan to attract traffic through search, make sure that your content is SEO-optimized.
Broadly speaking, there are a few guidelines you should follow for different channels:
Social media:
Emphasize visual content, especially on Pinterest
Focus on B2B topics and in-depth guides on LinkedIn
Tech and current events-related content does well on Twitter
For Facebook, focus on useful content with strong visual components
Ensure that you have relevant share buttons placed strategically throughout the content
SEO:
Create longer content (over 2,000 words) to improve your chances of ranking
Ensure that you're using strong on-page SEO tactics (headline tags, keyword usage, etc.)
Keep content updated since fresher content will often outrank older pieces
I can't emphasize the last point enough. You can often beat more established competitors simply by keeping your content regularly updated.
For example, after updating one of our pages, organic traffic shot up substantially even though we added barely 100 words of additional content:

4. Focus on the "post-visit" phase
When creating content, it's always a good idea to keep one eye on the "post-visit" phase, i.e. capturing leads.
Essentially, this means using content that gives you an opportunity to plug an additional offer. Think of it as telling the visitor "Hey, you enjoyed this, so you might find this extra content useful as well".
Here are some approaches you can adopt:
Create a step-by-step post and offer additional steps as a download
Create a beginner's or intermediate level guide and offer an advanced guide as a download
Create a detailed post and offer a summary or checklist as an offer
Create content that is thematically related to your existing eBooks and whitepapers
Avoid creating completely self-contained content. Your goal should be to give readers 80% of the value before the download form, and 20% of the value after.
This way, you'll not just get readers; you'll get leads.
Once you've created your content, drive traffic to it through your channel of choice. If you're using organic traffic, start a link building campaign. If you're using PPC, start a Facebook or AdWords campaign.
After you start getting traffic, it's time to capture leads.
Phase 2: Capturing Leads
Capturing leads is about two things:
Pairing the right offer with the right content
Optimizing the lead capture form to increase conversions
I'll share tips on how to do of these below.
Using the Right Offer
When it comes to capturing leads, you must give your readers a reason to give away their email addresses.
Your offer, therefore, must be:
Relevant to the content they're consuming
Valuable enough to justify giving away their private information
The easiest way to fulfill these requirements is to create a highly targeted offer for a specific piece of content.
You might know this as the "content upgrade" method.
Essentially, your goal is to "upgrade" the on-page content by either simplifying it or expanding on it.
For example, we recently created an article on team building activities for a client. As a "content upgrade", we offered a PDF with a checklist for running all of the 31 activities mentioned in the article.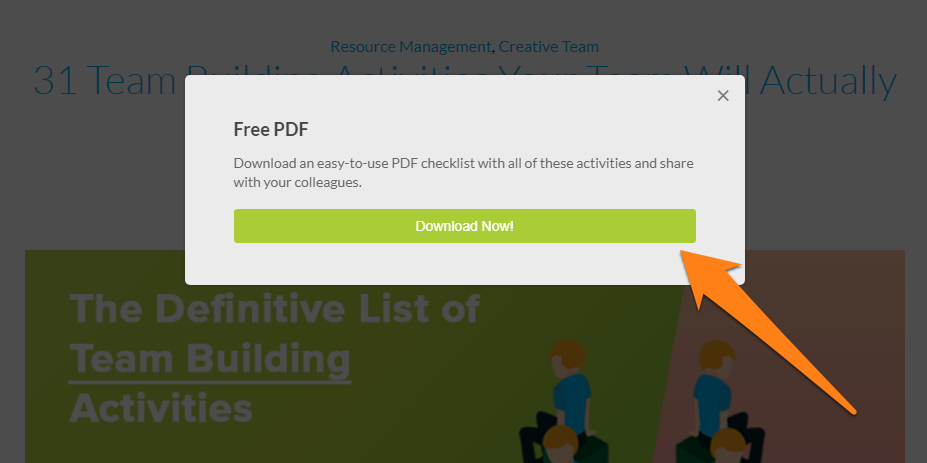 This is an example of simplification. The downloadable PDF makes the on-page content easier to use and remember.
Here's a screenshot of the PDF you get after you hit the "Download Now" link: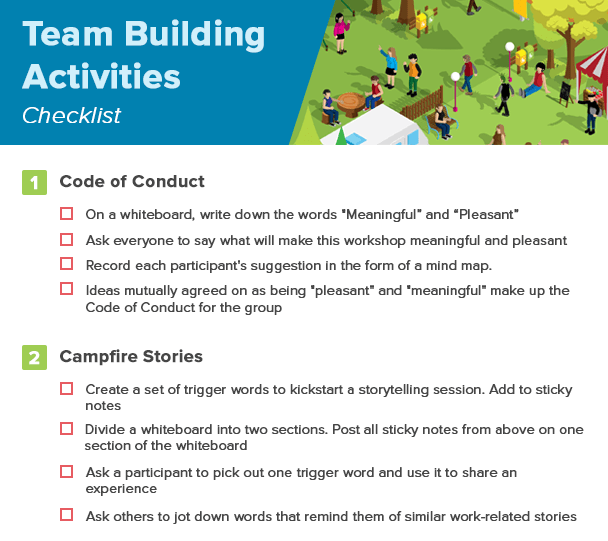 Another approach is to expand the on-page content, as HubSpot does on this post on email marketing habits.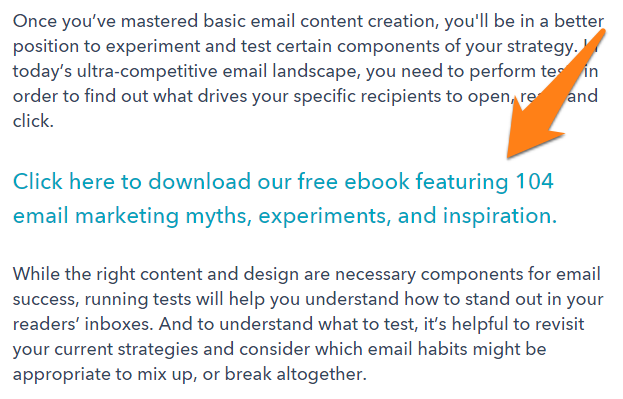 You can also simplify and expand the on-page content as Brian Dean does on this post. The downloadable offer simplifies the article by condensing it into a checklist. It also adds two additional strategies not covered in the post.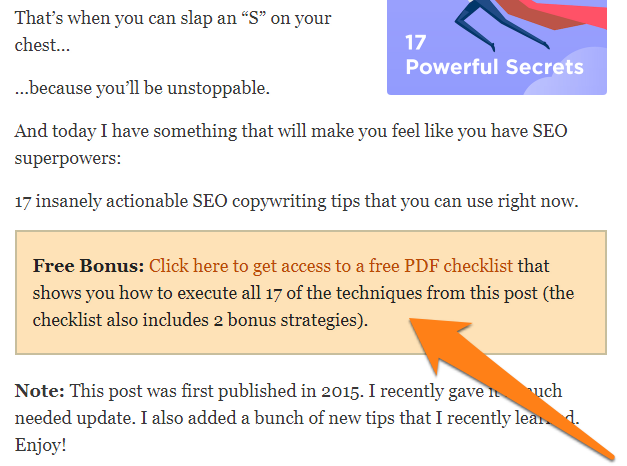 This "content upgrade" approach is extremely effective since the offer is highly relevant to the on-page content.
The problem, however, is that it takes time to create offers. You can't possibly create one for each piece of content in your library.
My approach, therefore, is to only create dedicated offers for the best-performing content on the site. This is content that gets the largest amount of highly targeted and engaged visitors.
To do this, log into your Webmaster Tools and find your site's top performing content in terms of organic traffic. Go to Search Analytics and sort the results by 'Pages'.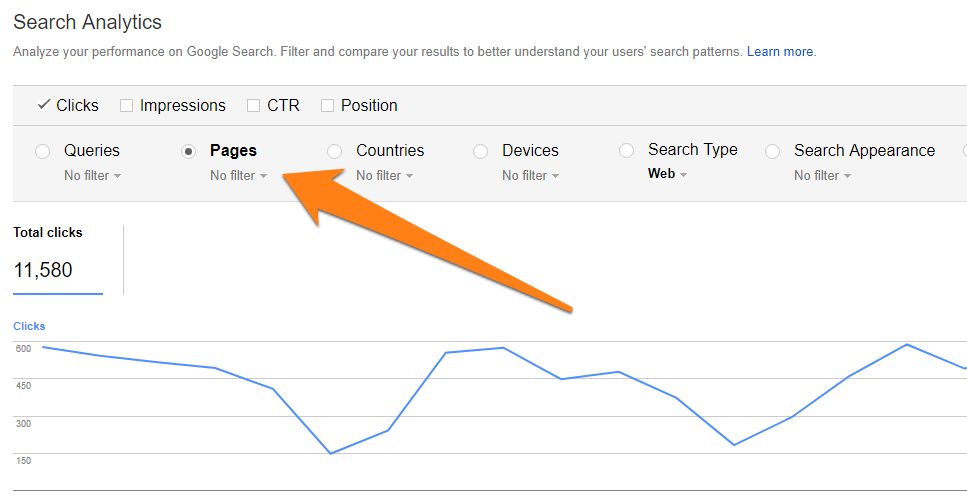 Add the five top queries for each page to your spreadsheet.
Your goal now is to figure out offers that would match the requirements of the top incoming queries.
This is usually easy to do with long-tail queries. Someone searching for "growth hacking tactics" is clearly looking for just that - growth hacking tactics.
With broad queries, however, things get harder. Someone searching for "growth hacking" can be searching for:
A list of growth hacking tactics
An agency to help with growth hacking
An explanation of growth hacking
How do you figure out what kind of content to create in such cases?
Easy: you create offers that match your target customer persona.
For example, if you're targeting SaaS CMOs, you would assume that they would already have an understanding of "growth hacking" if they're searching for that term.
Thus, you would focus on creating offers that give them intermediate-advanced level insight on implementing "growth hacking". You would shy away from any beginner-level content since it wouldn't match the persona.
Add another column in to your spreadsheet identifying the target persona for each of your top performing pages.
Next, add the title of the content offer based on the keywords and persona. Your spreadsheet should look something like this:

Your next job is to create this content and offer it to readers.
To do this, you'll need a well-optimized form.
I'll share some tactics for creating better opt-in forms in the next section.
Create Better Opt-in Forms
Compared to landing pages, it is much easier to create a well-optimized on-page opt-in form. Since the traffic is already a) targeted, and b) familiar with your content, convincing them to give away their email addresses doesn't require as much effort.
Nevertheless, there are a few things you can follow to improve the conversion rates of your content upgrade opt-in forms:
1. Stick to one offer per page
One of the biggest mistakes I see marketers frequently making is adding multiple offers on the same page.
They might have a content upgrade CTA within the page content, an eBook offer in a slidebox, and an email subscription form in the sidebar.
A visitor landing on the page would obviously be confused - should he click on the eBook download form or the content upgrade?
Make things easier by sticking to a single offer on each page. This means that all your opt-in forms should only promote your content upgrade, nothing else.
2. Add multiple CTAs
While you should stick to one offer on each page, you should definitely add more CTAs to the offer.
Here's an approach that works well:
Add one in-content CTA at the top of the page after the opening few paragraphs
Add one in-content CTA in the middle of the page (especially on long posts)
Add one in-content CTA at the bottom of the page after the conclusion
Add one CTA as a slide-in box or pop-up
In-content CTAs work particularly well since you can make them contextually relevant to the page's content.
For example, Backlinko uses a text CTA promoting a checklist for 17 copywriting techniques right after a paragraph mentioning the same: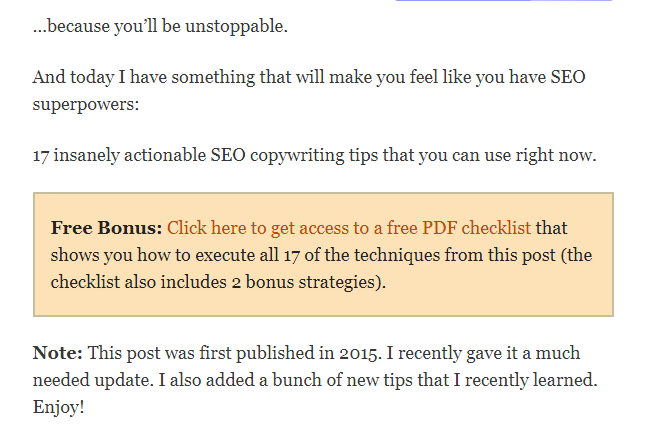 At the bottom of the post, however, he uses a visual CTA that gives readers a glimpse of the download.
The visual CTA works better here since anyone who's read the post already knows the 17 techniques. The image just reinforces the download's value.
3. Use a visual opt-in form
When it comes to opt-in form design, this template works well: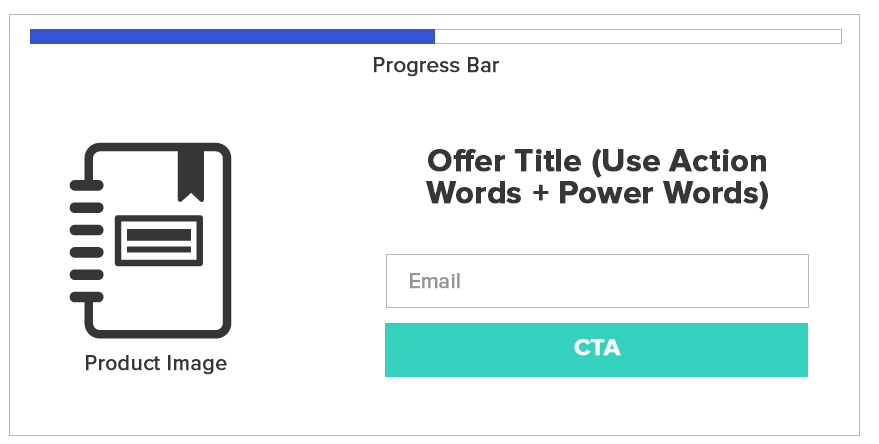 The "progress bar" at the top visualizes the opt-in process while the image on the left visualizes the download.
Try to use keywords in the headline copy that emphasize the quality or contents of the offer. Think of words like free, more, best, step-by-step, etc.
The CTA button should ideally be in a bright color that stands out against the background. Also use action words such as get, send, grab, download, etc. in the CTA copy.
Here's an example of one such form on Backlinko:
4. Add CTAs to your downloads
You don't want readers to just download your content offer; you also want them to take some action, preferably something that demonstrates their interest in you or your services.
For this reason, I recommend adding a 'What to do next' section at the bottom of your PDF downloads.
Here's one example: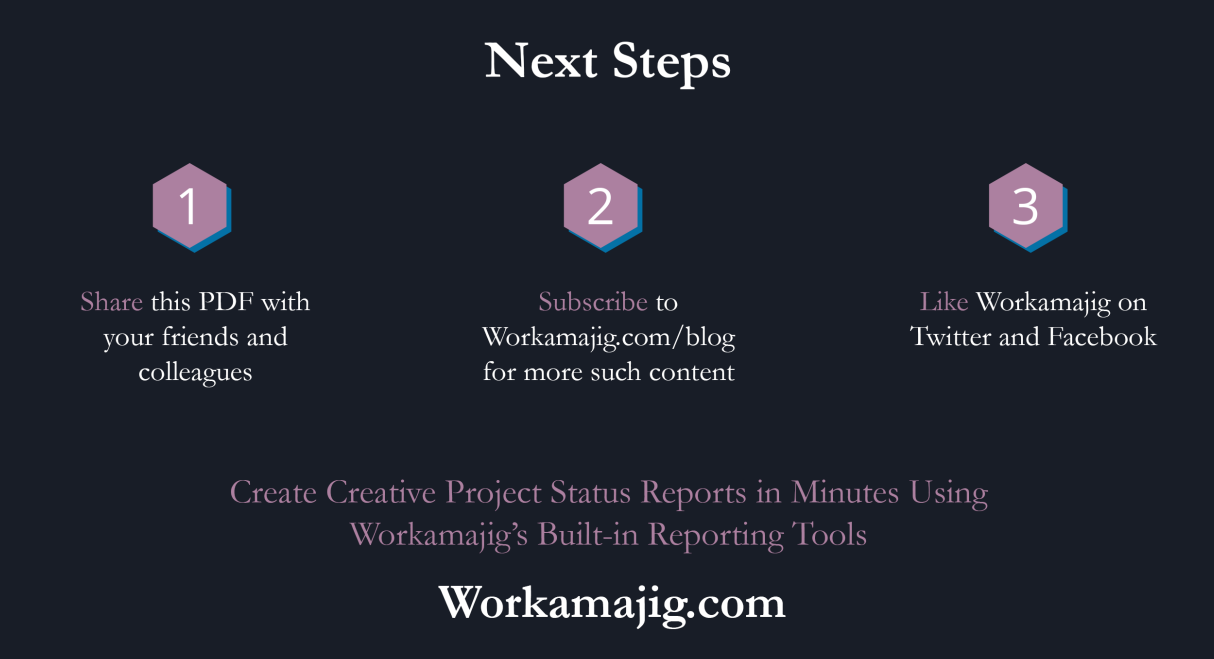 Asking readers to share the download, send you an email, or follow you on social media are some popular CTAs you can include.
More importantly, track all readers who actually click on links in the download. These would be your "highly engaged" readers and should be a top priority in any nurturing campaign.
This brings me to the final phase of the marketing funnel: nurturing leads.
Phase 3: Nurturing Leads
It's a rare lead that is ready to buy immediately after the first touch.
You'll usually need multiple touches before the lead understands your value proposition and is sales-ready.
This is why the next phase after lead collection is lead nurturing.
Lead nurturing is simply the process of developing a relationship with your leads by sharing valuable content with them.
The content you share must do two things:
Deliver valuable and relevant insight to the lead
Educate leaders about your services
I'll share a process for accomplishing both these tasks below.
1. Use the welcome email to assess the lead's interests and knowledge
The welcome email is the first thing visitors will see in their inboxes after they become leads.
This email should accomplish three things:
Include a download link to the lead's requested materials so he/she can find it later
Tell the lead more about you as well as what he/she can expect in future emails
Help you track the lead's interests and knowledge-level
The third part is critical for building a lead nurturing campaign. Unless you have access to lead intelligence tools such as Salesforce' Data.com, it can be difficult to know how much your leads already know about a topic.
To solve this problem, I offer three additional pieces of content related in the welcome email. These content pieces are a) related to the original download offer, and b) targeted towards three different personas.
For example, if I acquired a lead by offering a PDF on "growth hacking tactics", I might have three offer links in the welcome email:

Based on which link the lead clicks, I'll get an idea of their interest and knowledge-level. This way, I can plug them into different lead nurturing campaigns.
2. Create persona-based funnels
Sending all every lead the same nurturing emails will hurt your conversion rates.
The next step in any lead nurturing campaign, therefore, is to create separate funnels for each lead based on his/her persona.
You can map the lead's persona by figuring out the following:
What keywords the lead used to find your content
What content offer(s) the lead downloaded
What links the lead clicked on in the welcome email
Add all of these to a separate spreadsheet as follows:

This is admittedly rudimentary, but in the absence of additional demographics and firmographics data, it can be a good way to segment leads initially.
3. Use the right content-type in each lead nurturing email
A raw lead entering a funnel knows little about your services or often, his own problems. Therefore, your goal should be to help the lead understand his problems and its solutions before making a subtle pitch for your services.
It helps to think of the nurturing sequence as a mini buyer's journey. As the lead moves from 'awareness' to 'consideration' to 'decision', he'll want to consume different content-types.
Typically, you'll want to send easy to consume content pieces (articles, videos) in the initial stages of the lead nurturing process. As the lead learns more about the problem, you can start sending him more in-depth content eBooks, whitepapers).
At the end of the sequence, send the content case studies that demonstrate a practical solution to the problem. This also works great as an advertisement for your agency and its services.
Do this for all your personas as shown below:
This way, by the end of the lead nurturing sequence, the lead would know enough about your services to be ready for sales.
4. Collect additional data in each email
Besides educating the lead about his problems and its solutions, you can also use each email in a lead nurturing sequence to gather additional data.
For example, if you have just the lead's email data, you might send him a download offer with a form for collecting names and phone numbers.
This way, each subsequent email in the sequence can be a source of extra data, like this:
Start by asking for data leads don't mind giving away, such as emails and names. As the lead progresses further down the nurturing funnel, start asking for more detailed data, such as company website, size, budget, etc.
This will give your salespeople a treasure trove of data to work with.
Your Email Funnel Takeaways
An email marketing funnel can bring you highly qualified leads on autopilot. Once you have an optimized funnel, you simply need to feed it a steady stream of traffic to get sales-ready leads.
To create this funnel, you need to:
Create compelling content and drive traffic to it
Collect emails via a laser-targeted "content upgrade"
Nurture collected emails by offering them relevant content and collecting additional data
Do you have a marketing funnel in place? What tools and tactics do you use to create this funnel?
This is a guest post by Puranjay Singh of GrowthPub.