Reputation Management
Review Management
---
The importance of reputation management could not be more prevalent as reviews continue to grow more than ever before. Aside from the fact that reviews from customers help others decide whether they should visit a business or not, reviews are now more prevalent on search results pages—meaning a lot of eyes can see what is being said about your company online.
The influence that reviews have on shoppers is staggering: more than 88% of online shoppers incorporate reviews into their purchase decisions (Webrepublic, 2015). Businesses are told to get more reviews on review websites to keep attracting new customers. With so many review websites out there, where does a business even begin?
Online Reviews
Businesses live and die based on online reputation management. A business's reputation is the sole determining factor in the modern customer journey. When someone looks up a local business and sees a below-average score, they are likely to choose a competitor. You as a business owner need to make sure that you capitalize on every prospect that makes it to the decision stage of their customer journey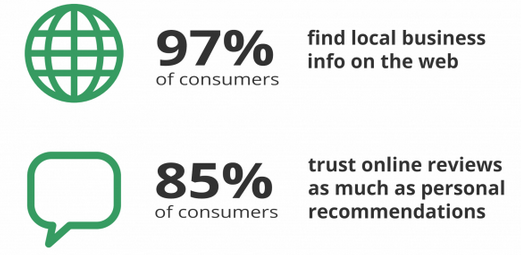 ---
Multiple online review sites
Businesses should strive to get business reviews on business review websites that are growing, review sites that people know about (and go to) and that are relatively friction-less (sites consumers have log ins or can go in easy to leave a review).
---
Reputation Management Best Practices
People can tell that if your business is grooming your reviews if all of your reviews are too positive. From a consumer's perspective, it is better to see a business with a mix of reviews, mostly positive but with some negatives as well. So long as a business is trying to remedy the situation by responding to the customer and following the proper review management protocols. It actually says more about the business than a business with all perfect five star reviews.